The Real Housewives of Atlanta
Current Housewives
Kandi Burruss (Season 2-)
Phaedra Parks (Season 3-)
Cynthia Bailey (Season 3-)
Kenya Moore (Season 5-)
Porsha Williams (Seasons 5-6, 8-)
Shereé Whitfield (Seasons 1-4, 9)
Former Housewives
NeNe Leakes (Seasons 1-7)
Kim Zolciak (Seasons 1-5)
Lisa Wu (Seasons 1-2)
DeShawn Snow (Season 1)
Claudia Jordan (Season 7)
Kim Fields (Season 8)
Country of Origin
United States
Original Language
English
No. of Seasons
9
No. of Episodes
176
The Real Housewives of Atlanta is an American reality television series that debuted October 7, 2008 on Bravo. It is the third installment of the Real Housewives franchise. A peach serves as the symbol for the series, as the state of Georgia is a renowned peach growing area and one of the well-known streets in Atlanta is known as Peachtree Street. The series follows six women living in and around the Metro Atlanta area as they balance their home life, business ventures, and their social calendars as a production crew follows their everyday activities. Kim Fields, Kandi Burruss, Cynthia Bailey, Phaedra Parks, Kenya Moore, and Porsha Williams serve as the current Real Housewives of Atlanta cast. As of April 2013, The Real Housewives of Atlanta is the highest rated installment of the franchise as well as the most-watched series on the Bravo network.[5]
The Real Housewives of Atlanta was renewed for a sixth season on April 2, 2013.[2]. On April 8, 2014 the show was confirmed for a seventh season with the same cast returning.
Production
Edit
The show premiered October 7, 2008 and starred Nene Leakes, Kim Zolciak, Shereé Whitfield, Lisa Wu Hartwell, and Deshawn Snow. Kandi Burruss joined the cast, replacing Deshawn Snow, for Season 2 which premiered July 30, 2009. Season 3 premiered October 4, 2010 with new housewives Phaedra Parks and Cynthia Bailey joining with the departure of Lisa Wu Hartwell. Season 4 began taping in April 2011 and premiered November 6, 2011 with the entire Season 3 cast returning and Marlo Hampton joining as a "friend of the housewives". With the fifth season renewal, Shereé Whitfield was not invited back and was replaced by Kenya Moore. Porsha Stewart also joined the cast and Kim Zolciak departed mid season. The show was renewed for a sixth season on April 2, 2013 and has begun taping with the entire Season 5 cast expected to return. It is not clear if Kim Zolciak will return for the sixth season.
Season 8
Edit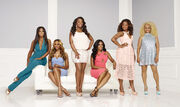 Nene Leakes, the remaining original housewife, revealed across her social media profiles on June 29, 2015 that she would not be returning for the eighth season of RHOA as a cast member.
On September 28, 2015 the trailer  for the eighth installment of the series premiered introducing new housewife Kim Fields and appearances by Shamea Moreton and veteran housewife, Shereé Whitfield.
The eighth season premiered on November 8, 2015 garnering a total of 3.7 million viewers. 
Housewives
Seasons
1
2
3
4
5
6
7
8
9
NeNe Leakes
Main
Guest
Kim Zolciak-Biermann
Main
Guest
Shereé Whitfield
Main
Friend
Main
Lisa Wu
Main
Guest
Guest
DeShawn Snow
Main
Kandi Burruss
Main
Cynthia Bailey
Main
Phaedra Parks
Main
Kenya Moore
Main
Porsha Williams
Main
Friend
Main
Claudia Jordan
Main
Guest
Kim Fields
Main
Friends of the housewives
Marlo Hampton
Friend
Guest
Guest
Demetria Mckinney
Friend
Guest
Shamea Morton
Guest
Friend
Guest




Season
Episodes
Season premiere
Season finale
Reunion
1
8
October 7, 2008
November 18, 2008
November 25, 2008
2
16
July 30, 2009
October 22, 2009
October 29, 2009
November 5, 2009
3
18
October 4, 2010
January 30, 2011
February 13, 2011
February 20, 2011
4
23
November 6, 2011
April 8, 2012
April 15, 2012
April 19, 2012
April 22, 2012
24
November 4, 2012
March 31, 2013
April 7, 2013
April 14, 2013
April 21, 2013
6
27
November 3, 2013
April 13, 2014

April 20, 2014
April 27, 2014
May 4, 2014

7
25
November 9, 2014
April 19, 2015

April 26, 2015




May 3, 2015




May 10, 2015

8
21
November 8, 2015
March 13, 2016
March 20, 2016

March 27, 2016

April 3, 2016
The first Real Housewives installment to include a a predominantly black cast.
The first program to have a season that does not include an original housewife as one of its main cast members (with the exit of Nene Leakes).
Ad blocker interference detected!
Wikia is a free-to-use site that makes money from advertising. We have a modified experience for viewers using ad blockers

Wikia is not accessible if you've made further modifications. Remove the custom ad blocker rule(s) and the page will load as expected.