Kyle Egan Richards-Umansky (born: Kyle Egan Richards) is a Beverly Hills housewife. As of season 6, she along with Lisa Todd, are the one of two housewives that has starred on R.H.O.B.H. ever since the first season in the Housewife capacity.
Background
Edit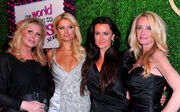 Richards was born in Hollywood, California into an acting family. She landed her first role at the age four in Disney's "Escape to Witch Mountain," where she played the younger version of her big sister, Kim. Her other sister is Kathy Hilton, mother of Nicky and Paris Hilton. Kyle's TV credits include "Little House on The Prairie," "Carter Country," "Down To Earth," and most recently "E.R." Film credits include "Halloween," and "The Watcher in the Woods." Kyle is an avid advocate for many charitable organizations. She's a proud socialite and hosts the annual White Party from her home in Beverly Hills. Kyle's married to the love of her life, Mauricio, a Mexican high-end realtor of many years and CEO of The Agency in Los Angeles.
Kathleen Mary Richards (Mom; deceased)
Kenneth Edwin "Ken" Richards (Dad; deceased)
Guraish Aldjufrie (ex-husband; m. 1988-1992)
Farrah Brittany Aldjufrie (daughter; 1992)
Mauricio Simon Umansky (husband; m. 1996)
Alexia Simone Umansky (daughter; 1996)
Sophia Kylie Umansky (daughter; 2000)
Portia Umansky (daughter; 2008)
Kathleen Elizabeth "Kathy" Hilton (older half-sister)
Richard Howard "Rick" Hilton (half-brother-in-law)
Paris Whitney Hilton (half-niece)
Nicholai Olivia "Nicky" Rothschild (half-niece)
James Amschel-Victor Rothschild (half-nephew-in-law)
Lily Grace-Victoria Rothschild (half-great-niece)
Barron Nicholas Hilton II (half-nephew)
Conrad Hughes Hilton III (half-nephew)
Kimberly "Kim" Richards (big sister)
George Monty "Monty" Brinson (1st ex-brother-in-law; 1985-1988; died 2016)
Brooke Ashley Wiederhorn (niece; 1986)
Thayer Wiederhorn (nephew-in-law; 2014)
Hucksley Andrew Wiederhorn (great-nephew; 2016)
Gregory "Gregg" Davis (2nd ex-brother-in-law; 1988-1991)
Whitney Davis (niece; 1990)
Chad Davis (nephew; 1991)
John Jackson (Kim's ex-boyfriend; 1990s)
Kimberly Colette Jackson (niece; 1995)
Taglines

Season 1

In a town full of phonies, I'm not afraid to be me.

Season 2

I'm not the richest girl in Beverly Hills, but I am the luckiest.

Season 3

I'm born and raised in Beverly Hills. This is my town.

Season 4

I'm from this town. I know what's real and I know what's fake.

Season 5

Planes and yachts are nice, but my happiness starts at home.

Season 6

In Beverly Hills you can be anything, but it's most important to be yourself.
Ad blocker interference detected!
Wikia is a free-to-use site that makes money from advertising. We have a modified experience for viewers using ad blockers

Wikia is not accessible if you've made further modifications. Remove the custom ad blocker rule(s) and the page will load as expected.